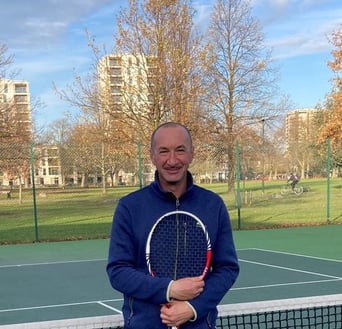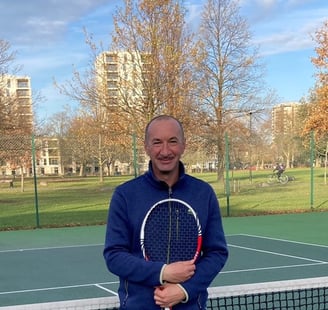 Michele 'Miki' Puccioni
Senior Club Coach
In 2018, the desire to keep improving my coaching skills led me to achieve the LTA Level 4 Senior Club Coach accreditation with Mark Tennant, the celebrated founder and director of Inspire2Coach, now my mentor and friend.
However, despite such high qualification, I still felt that no matter how much experience, preparation, technical and tactical knowledge I could share with my players there was still a big gap in the so called 'mental' side of coaching, for which I felt that in general coaches were not equipped enough.
So I went back to studying, and in 2021 obtained certificates in Sport Psychology and Psychotherapeutic Skills & Knowledge, discovering in the process the theory and techniques of Gestalt, an holistic form of therapy which focuses on the "here and now" and emphasizes the interconnectedness of body, mind and emotions. I could see so much potential for tennis, and started joining dots. At the same time, I developed very fruitful relationships with the Florence Gestalt Institute and Prof. Lucia Berdondini of the School of Psychology at University of East London (UEL), and started experimenting on court by developing aspects of my Gestalt learning into my lessons, with fantastic reactions and results. These surprising and exciting coaching experiences encouraged me to write my initial research paper, which was published worldwide in April 2022 by Coaching & Sport Science Review, the scientific journal by the International Tennis Federation.
I see tennis as liberating, an expression of the self. I see tennis as dance.
I re-discovered the game in my late 30s, after a degree in philosophy and a career as a foreign correspondent based in London. It was how I felt on court that did it: fulfilled, complete, free and happy. And when in 2013 I took my first qualification as an assistant coach, there was no going back. The job was much deeper and gratifying than I could have ever imagined; there was, and still there is, so much to learn and share to help people of all ages and ability enjoy their game.
I'm hugely proud to have developed Gestalt-Tennis and the first ever programme of its kind. This has been rolled out in September 2023 at Hackney Tennis, where I've been working since 2013.